Description
These are the best of the best when it comes to bridles.  Our bridles are bespoke and made-to-measure.  Handmade by us, with a Eldonian inspired EquuSport butterfly stitching pattern, these are the perfect addition to a stunning round.
Our custom bridles standard noseband is 1 and 1/8″, otherwise known as wide.
Relative sizing is Small Pony, Pony, Cob, Extra Cob, Full, Extra Full and Oversize.
The price listed is for your bridle only.  All reins and other leather goods are sold separately.  You can select your reins here or also view our laced reins (flat or raised), web reins, and rubber reins as well.  We also have martingales and girths as well.
Please reference our measurement illustration prior to ordering.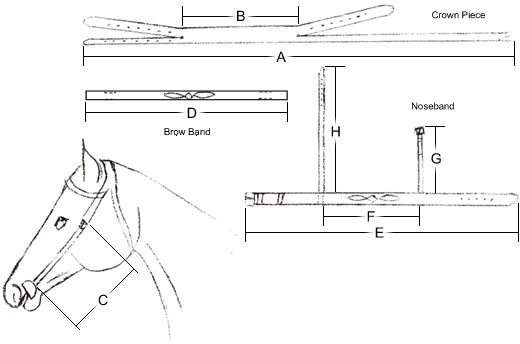 If you would like to print our measurement sheet, please click here: Custom Bridle Measurement Sheet
Please allow 3 weeks for production